Station touristique Duchesnay
A great place to work
In collaboration with Mélanie Pageau
The view of Lac Saint-Joseph or of the beautiful forest, the contact with nature, the guests on vacation... Working at Station touristique Duchesnay is being high on fresh air! A four-season resort a mere 30 minutes from Québec City, Duchesnay is a haven of peace and a majestic playground for guests... and for employees too!
Whether they work in reception, housekeeping, kitchen, activities, maintenance, food services, field operations, or in the offices, they all enjoy the bucolic environment and the zenitude of the premises. They also appreciate the team spirit and family atmosphere that prevails, not to mention the good mood of the clientele, which is highly contagious!
Here, every day is different, far from routine and traffic. All sorts of professions are at your disposal. What a boon to professional development! Here is a short overview of the employment scene.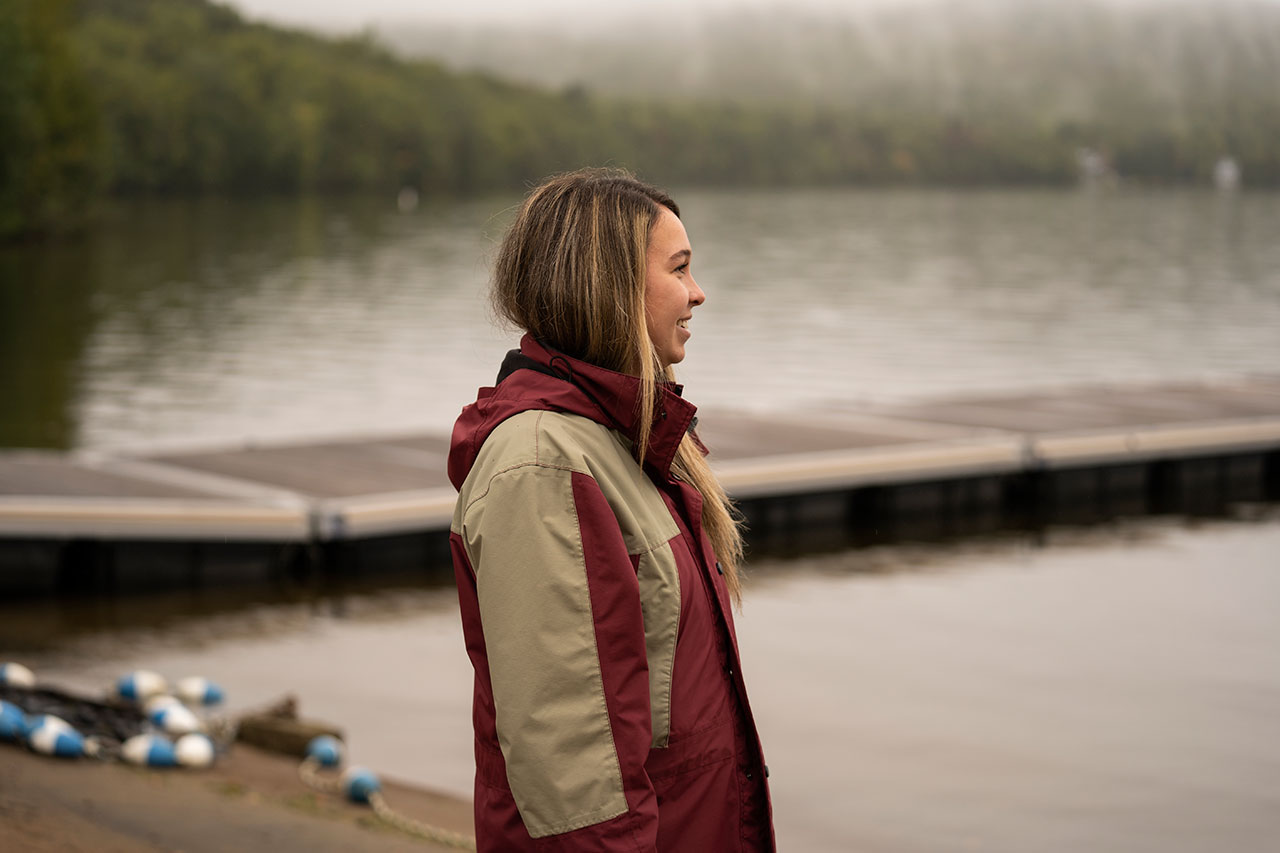 Amélie
Receptionist and team leader
Possibly the first person that hotel guests will meet, Amélie has been welcoming them with a smile. That's exactly what she loves about her job in tourism: meeting people. "It's inspiring. They come from the city and want to get away from it all, to be in contact with nature. They're happy to come here. "
A keen hiker, she herself takes advantage of this environment to go for a walk at the end of her shift before returning home to Sainte-Catherine-de-la-Jacques-Cartier. She's also discovering the great outdoors at other Sépaq establishments thanks to the Employee Program, which allows her to visit national parks for free and obtain discounts on accommodations. She receives advice from her colleagues on places to see as well!
Néry
Domestic helper and team leader
For Néry too, contact with guests is really important. Some of them express their gratitude for the cleanliness of their rooms, a source of pride for a person who has put her heart and soul into her work for the past 12 years. Originally from Mexico, where she worked in tourism, Néry found her first job in Québec at Duchesnay and she hopes to work here for a long time to come.
She became team leader three years ago and is now taking on other challenges. She also recruits newcomers to join the team, whose members have a lot of good times on the job. "We laugh; we help each other out. For me, it's the ideal job."
Dominique
Assistant banquet chef
After receiving a warm welcome and admiring a sparkling dining hall, our guests savour Dominique's food with sheer delight. A fixture in Duchesnay's kitchen for the past 20 years, Dominique has climbed the ladder one rung at a time after graduating from school, working as a kitchen helper, second cook, first cook, team leader, and now assistant chef for the past six years. Teaming up with the chef, she takes care of menus and orders and makes sure to maintain the high standards of the restaurant.
"I've achieved my career goal," she says. "I'm doing well. We've brought the kitchen to an impressive level and I'm proud of that." The Sainte-Catherine-de-la-Jacques-Cartier native hopes to continue in the same vein, while creating more tasty dishes in the years ahead. She appreciates the very large, fairly recent, well-equipped kitchen, as well as the fact that she's involved in managing a wide range of food-service styles: business clientele, banquets, weddings, table d'hôte meals, and much more besides.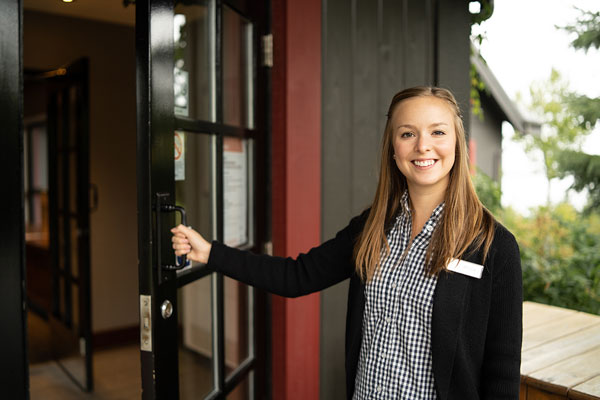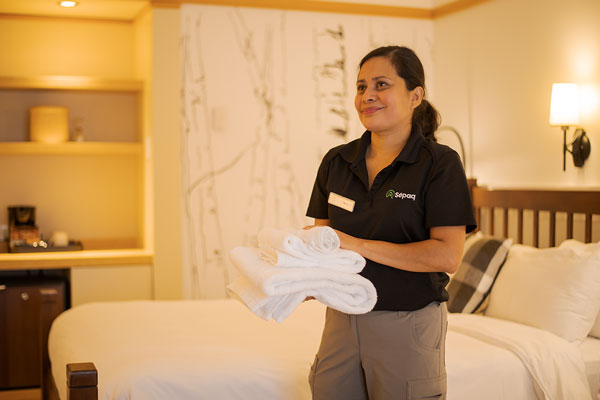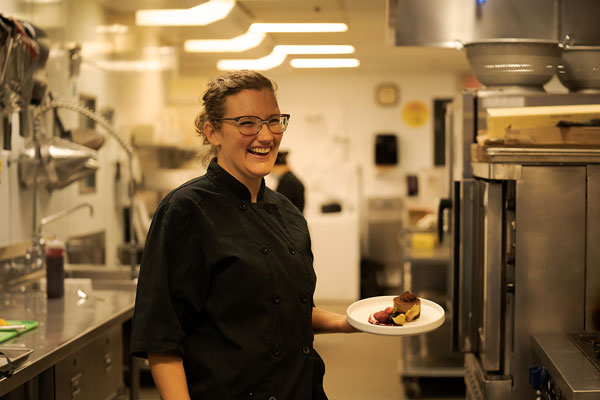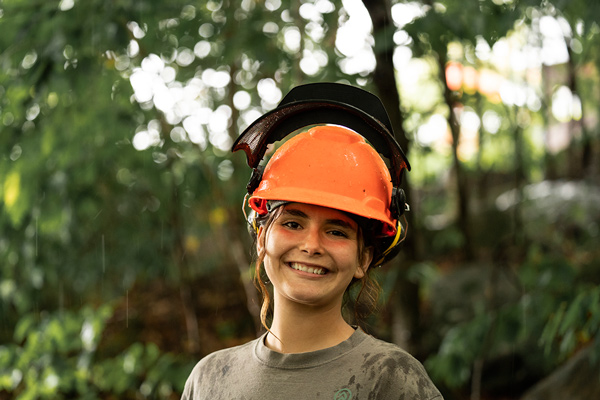 Andrée-Anne
Activities assistant
A graduate of Collège Mérici, Andrée-Anne fell in love with Station touristique Duchesnay during her internship: "I was bowled over by the activities! This was where I wanted to make a career. I found the place so beautiful!" This kindly, hyperactive organizer used a replacement position as a springboard to her place in the sun. She now works with school groups, supervises guides, and develops activities, much to the delight of our young visitors. She divides her time between the "field" and the office.  She's always where the action is…and makes things happen!
She also takes advantage of her work environment to go kayaking at lunch time, test the Arbraska circuits, and admire the beautiful views along Le Rocher trail. "Every season has something to offer," she observes. "When it first snows, you go nuts; skiing time is not far away! " Gazing at the lake, she concludes: "We're so darn lucky!"
Victor
Facilitator/guide
Originally from Québec City, Victor completed his high school education in the outdoor studies program at École secondaire Mont-Saint-Sacrement. It was therefore "natural" for him to find a job… outdoors. A friend who worked in Arbraska put him on the Duchesnay trail. Victor has already spent four summers here as a facilitator/guide. As team leader, he's also in charge of safety and security and is not afraid to take the famous red circuit, which offers a breathtaking view of Lac Saint-Joseph from the top of our renowned board bridge.
What he and his colleagues have in common is that he appreciates looking after our guests, "chilled-out folks on vacation in a relaxed, Zen atmosphere... Satisfied customers make satisfied employees."
Tony
Certified maintenance labourer
After 20 years working in a steel manufacturing plant, including as director of quality control, Tony needed "a change, peace of mind, and fresh air." His second career would unfold in a living environment that tickled his fancy a whole lot more than his first. So he returned to school to study recreation and tourism. Originally from Rivière-à-Pierre, he was already familiar with Sépaq since his father had worked for 30 years at Réserve faunique de Portneuf.
As soon as a position became available, he tried his luck at Duchesnay, where he now works as a certified maintenance labourer. Tony does a lot of maintenance work, including painting, carpentry, plumbing, electricity, snow removal, and other tasks. "There's always a lot of work, but I'm no longer doing a line job," he says. He plans to end his career this way, possibly working part-time as a seasonal labourer during a well-deserved pre-retirement phase of his dream job.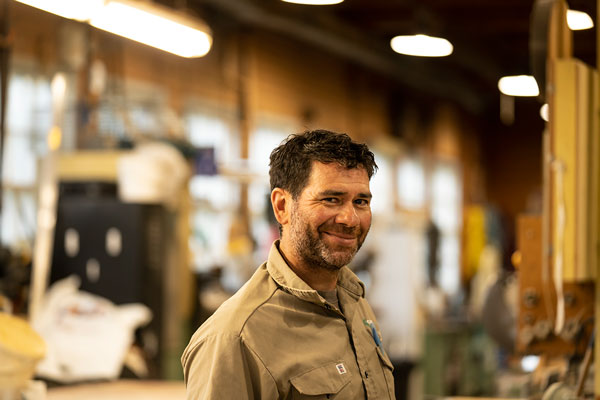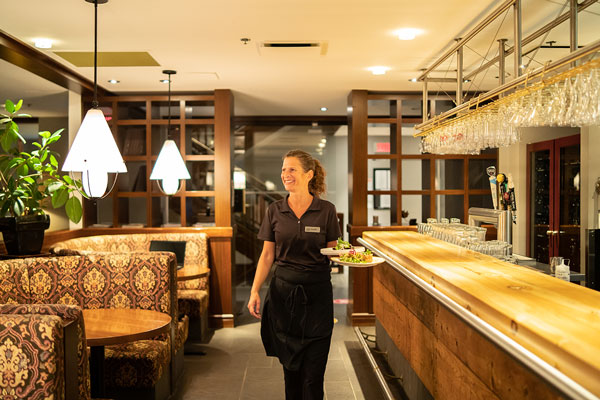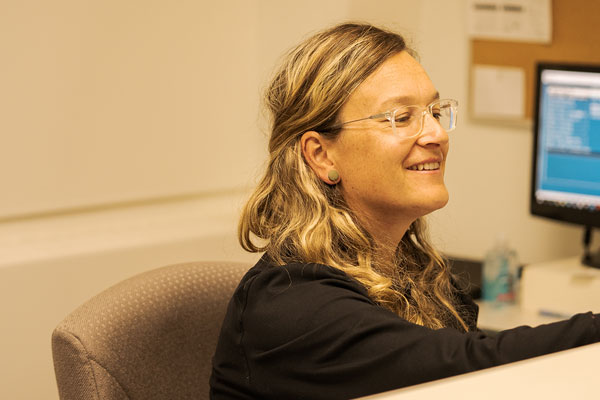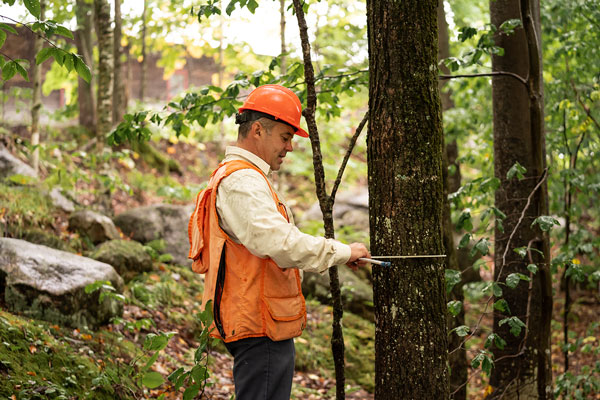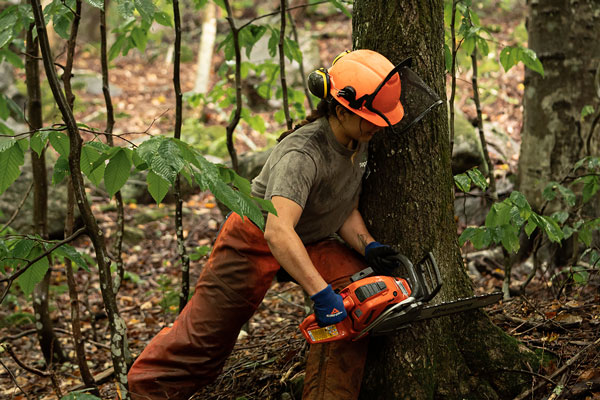 Isabelle
Waitress
For Isabelle, waitressing isn't just about lugging plates. "I totally connect with what people come here to experience," explains Isabelle, who has also worked for Club Med, airlines, the Hôtel de glace, and other tourism enterprises. "I chase after people on holidays 'cus they're always in such a great mood!"
What's kept her at Duchesnay for the past two years is the team spirit, mutual aid, and friendship with colleagues. She also sees career opportunities in the Sépaq network as a springboard to professional growth.
Kim
Administrative assistant
Kim has done pretty much every job that Duchesnay has to offer! She started 20 years ago as a beach lifeguard and continued with activities in the fall, then with cross-country skiing in the winter, and in the food-services business (hostess, sales assistant, banquet waitress, and more). She has always worked year-round. She spent 16 years on the reception team, as a receptionist, team leader, accommodation assistant, and accommodation manager over a period of 10 years.
It was a family choice that led to a job as an administrative assistant two years ago, a position that suits her perfectly during this period of her life. "I didn't want to leave the resort," she says. "It's a place that I love, that I really care about. I've seen it change over the years. I was happy to have the opportunity to stay at Duchesnay. I see myself retiring here." Her sense of belonging is also felt during her own holidays, which she often spends at Sépaq establishments. "We fell head over heels in love with Auberge de montagne des Chic-Chocs!"
Michel and Éloïse: mentor and successor
Field operations officers
A field operations officer, a POT (préposé aux opérations terrain) in Sépaq talk… exactly what kind of job is it anyway? Well, one's duties change every single day of every single year! POTs prepare trails in the spring, repair damage, mow the lawn, paint, clear brush, maintain huts and shelters, respond to emergencies, and a great deal more besides.
In Michel's case, winter means another set of duties: he becomes a snow groomer operator (the groomer for cross-country skiing). The snow then dictates his schedule. "It takes seven to eight hours to groom the trail network. We do it almost every day. We set the bar high. Skiers who come to the resort often know that the network is going to be very well groomed. They love it to be perfect!"
Also a forestry technician, Michel studied right across the street at the Duchesnay school of forestry. His two years as a teacher at the school board and his 22 years at Station touristique Duchesnay thoroughly prepared him for his role as mentor. In particular, he's introduced Éloïse to driving the snow groomer and handling a backhoe. He hopes to keep his erstwhile successor in the game. The two of them form "one heck of a team!"  
Éloïse also studied at the school of forestry. She started at the cross-country skiing reception centre. When an operations attendant position became available, she took the plunge. This physically demanding job did not scare her in the least. She also benefits from the accumulated expertise of Michel, who shores up her confidence and provides the tricks of the trade.
"I love working outdoors ; this was THE job for me. I'm flying high! I love everything that has to do with machines, chain saws, backhoes, you name it. What I do makes me proud of myself. I get up every morning happy to do my job. I can't ask for more."
Some people are lucky enough to be in their element from their very first full-time job!
So you're a nature lover? We've got just the job for you!
Each year, Sépaq seeks around a thousand people to fill various positions. One of these jobs may be just for you! Keep an eye out for offers and sign up for employment alerts.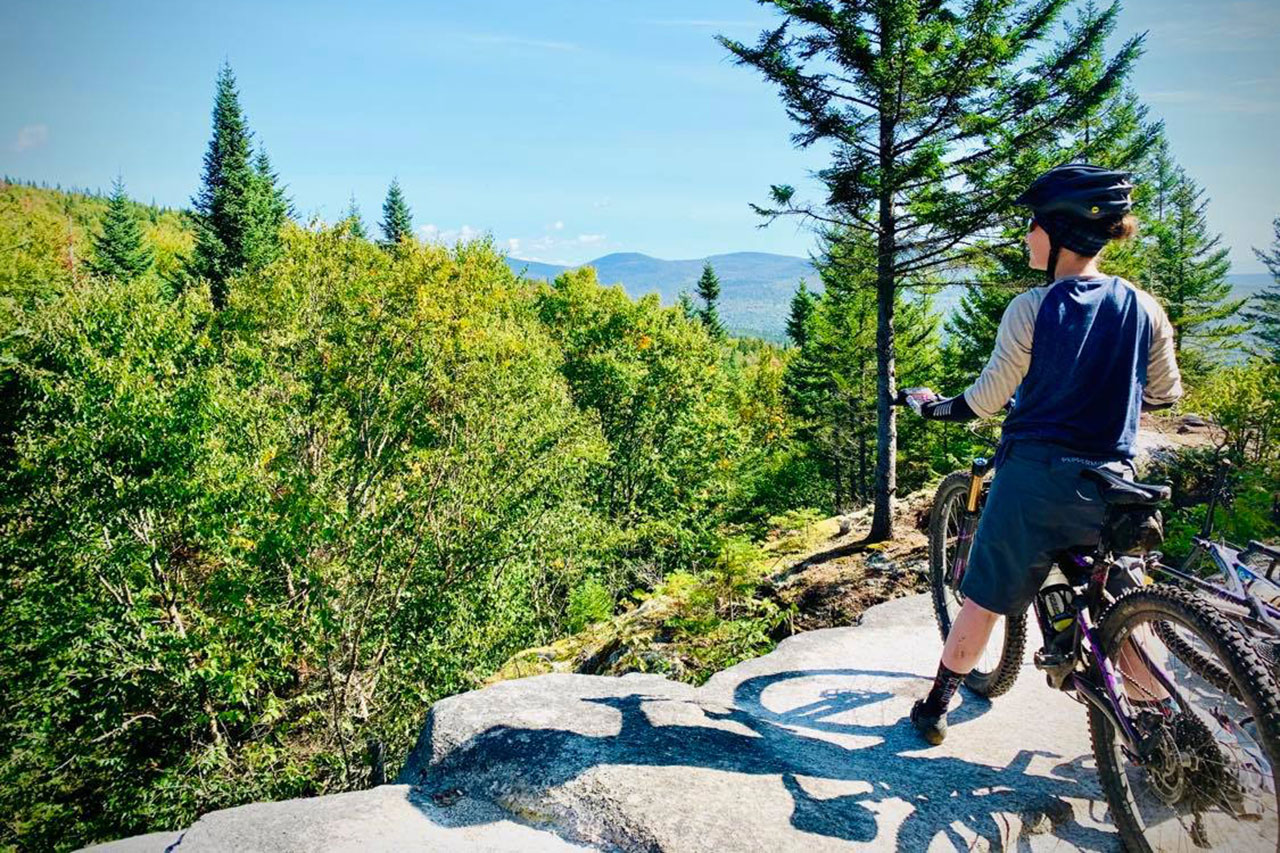 About Mélanie Pageau
A mother of two boys and an outdoor and adventure enthusiast, Mélanie is particularly fond of mountain biking, fat biking, cross-country skiing, long hikes, and other strenuous activities. In short, staying active in the great outdoors! A former journalist turned communications consultant, Mélanie joined Sépaq to combine her passions with her professional life.