The human landscape
In collaboration with Catherine Bernier
I like to believe that we're one with nature. Taking care of the natural world is like taking care of ourselves. You know, a perpetual work in progress!
As a lover of Sépaq's wide open spaces, I was eager to discover the dynamic people who protect them. So I took out my camera, a pretext to go and meet the organization's human landscape.
What I discovered changed my perception of the locations: real living environments showcased by caring protectors. Facilitator-guide, lifeguard, day labourer, park warden and naturalist, patrol officer, astronomy specialist, customer service agent... Each in their own way, they all work to connect people to nature, knowing from experience how beneficial such a connection can be.
By applying to work at Sépaq, some saw a chance to forge a more meaningful life for themselves and contribute to a major collective mission. Others were attracted by the opportunity to gather a solid set of skills through hooking up with experienced colleagues, as well as drawing knowledge from the living encyclopedia of their chosen location. They were unanimous in feeling fortunate to be part of a large family, knowing that they can always count on each other, no matter what their profession.
Janick
Receptionist
Three years ago, Janick left her office job with the desire to get closer to what really turned her on. A great fan of fishing, cycling, and snowshoeing, she associates the practice of these outdoor activities with maintaining her physical and mental well-being.
"It's my way of recharging my batteries, of taking a step back to question myself and, above all, of finding peace of mind. The outdoors has literally saved my life."
Janick wanted to share the benefits of the outdoors but didn't know how to translate this wish into a professional life. An experienced customer service hand, she simply decided to offer her talents to Sépaq's human resources department. A few weeks later, she took up a position as a receptionist at Parc national d'Oka. Janick makes sure that everyone is good and happy, that employees and visitors alike are having a meaningful experience. Far from routine, her job involves managing all kinds of situations on a daily basis. "I have the personality for this work because I stay positive. There are no problems, just solutions! "According to Janick, the team spirit is so strong here that all departments help each other.
Janick also introduces young people to various outdoor activities: she organizes snow Olympics and cross-country skiing groups, for example. "I'm very interested in the issue of outdoor accessibility, knowing that for some folks, initiation to nature brings its own challenges. If I manage to arouse their interest in a safe environment, then I've fulfilled my mission," she says, guiding me along Grande Baie trail, her favourite pathway in the park.
Josée
Field operations officer and housekeeper
Josée will be starting her fourth summer at Parc national du Mont-Mégantic. She grew up nearby and is particularly fond of the area. "As a child, long before the creation of the park, this was my playground. Today, it's my living environment." From the mountain peak, she points to the village where she grew up and the streams where she used to go fishing. Formerly a self-employed landscape gardener, Josée decided to apply for a position at Sépaq to gain greater job stability and a motivating work environment. Her duties are many and varied, and she enjoys a great deal of freedom as a field operations officer. For example, she may be required to repair a staircase, collect wood, maintain rental cabins, do housework, care for green spaces, and answer visitors' questions. " Some tasks may be less interesting than others, but the view makes it all worthwhile! I never cease to be surprised by the spontaneity of the natural world around me. This morning I was watching the falcons courting each other and I felt like the luckiest person on earth."
As she said goodbye, Josée promised to take me on a snowmobile outing next winter. Combining patrolling with pleasure, she'll point out the very best views of the park. And I'll be all eyes and ears!
Julie
Park warden and naturalist
After obtaining an attestation of collegial studies in ecotourism in Gaspésie, Julie became a self-taught naturalist. She has always been interested in the flora, fauna, and history of Quebec. It was while completing an internship at Sépaq 11 years ago that she found her place as a park warden and naturalist at Parc national d'Oka. It was also there that she met her boyfriend, a day labourer at Sépaq for more than 17 years. "I feel privileged to be paid to learn and share."
As part of her work, which is also her passion, Julie reaches out to visitors as well as to schools. She creates workshops to raise awareness, to teach, and enlighten people about both the natural and cultural aspects of the park. She shows them the beauty that they have not yet discovered. This is the challenge that drives her on a daily basis. "People don't always realize what a privilege it is to be able to camp in one of the last white pine forests in the region. Even though you're not far from town, so many levels of beauty are yours to behold. There are rare insects, including the imperial butterfly, unique reptiles, including some vulnerable species, and certain particular plants that have been destroyed elsewhere."
If she manages to change the perception of visitors, it's mission accomplished for Julie. "Children marvel more easily than grown-ups, but when I manage to convince adults, that makes my day." Julie recalls a mother who recently told her that she was rediscovering the land through the eyes of her three-year-old son, who often asks her to come to the park on weekends to walk. "His sense of wonder keeps the flame of my curiosity burning bright!"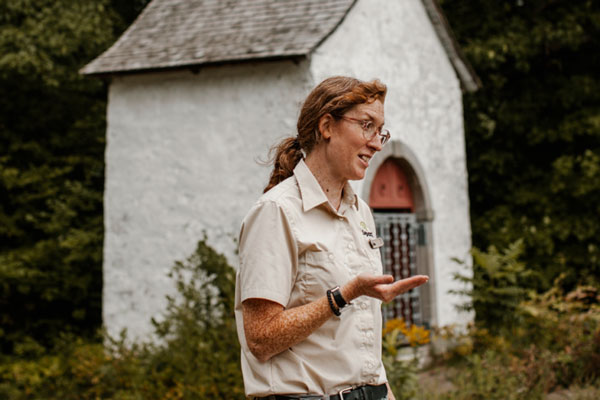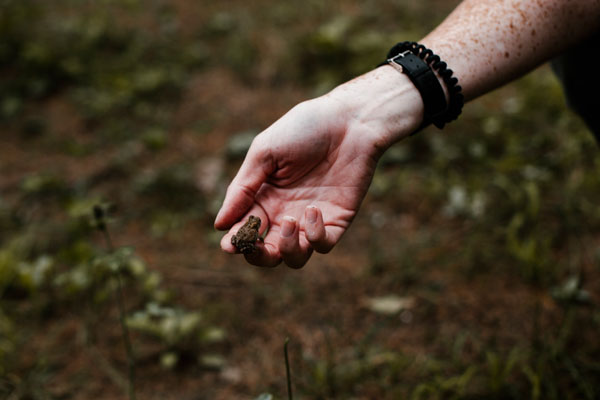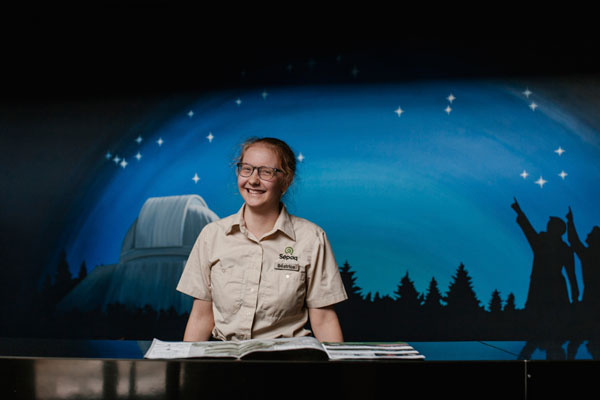 Béatrice
Student, receptionist
Béatrice has been a receptionist at Parc du Mont-Mégantic for four years. Every winter, since she was a little girl, she's been tracing the park's trails on snowshoes with her family. She simply feels good outdoors. That's what motivated her to apply for the position in the first place. As a natural science student, it was also an opportunity to get her head out of the books and learn in real time. She feels fortunate to rub shoulders with erudite co-workers: facilitators like Guillaume Poulin and astronomy specialists like Rémi Boucher.
Beatrice doesn't yet know what she wants to do later in life, but by being in contact with a variety of professionals, she's slowly getting an idea. At Sépaq, she's learned a great deal about nature, but also about human psychology. "I've learned how to be there for people and develop my social skills, which I didn't have before because I was too shy. Now I feel comfortable and more confident!" For the time being, she responds to visitors' questions and requests, offering activities and personal discovery, such as hikes that she enjoys. But, who knows, maybe one day she'll become a facilitator or an astronomy specialist at Parc du Mont-Mégantic!
---
In an era where digital technology is taking over our daily lives, the field roles of Janick, Josée, Julie, and Béatrice are essential. More than ever before, we need to connect with nature and preserve human contact. Getting people to stop and contemplate the beauty of nature by promoting education, conservation, or maintenance is a mission that deserves to be showcased and valued. A huge thank you to Sépaq's busy little bees who, through passion and dedication, weave sweet ties between the territory and its people.
So you're a nature lover? We've got just the job for you!
Each year, Sépaq seeks around a thousand people to fill various positions. One of these jobs may be just for you! Keep an eye out for offers and sign up for employment alerts.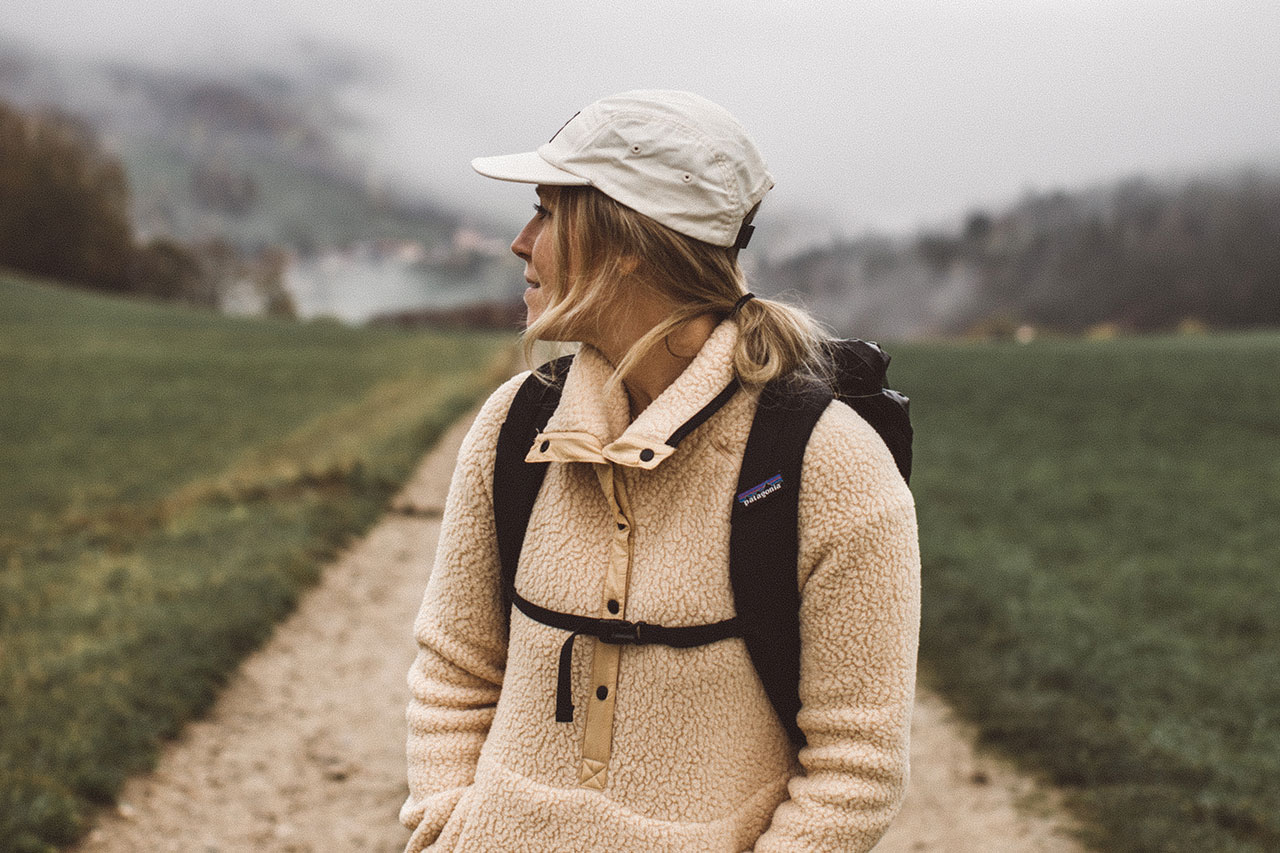 About Catherine Bernier
A freelance writer and photographer, notably for Beside Magazine, Catherine Bernier uses her creativity to awaken people to collective and environmental self-awareness. Originally from Sainte-Flavie, in Gaspésie, she has maintained a significant relationship with the sea and the vast wilderness, which colours her photographic approach.