Canoe + sleep: the perfect wilderness adventure
Canoe-camping circuit suggestions
Follow the course of the river until you reach that little corner of paradise to spend the night. Pretty great idea for an adventure, isn't it? A number of our destinations offer the possibility to paddle a canoe through stunning natural areas to reach your campsite.
Whether you're just starting out or you can no longer count your canoe-camping trips on the fingers of one hand, here are a few circuit suggestions that are sure to charm you. Remember that reservations are made by phone at 1-800-665-6527.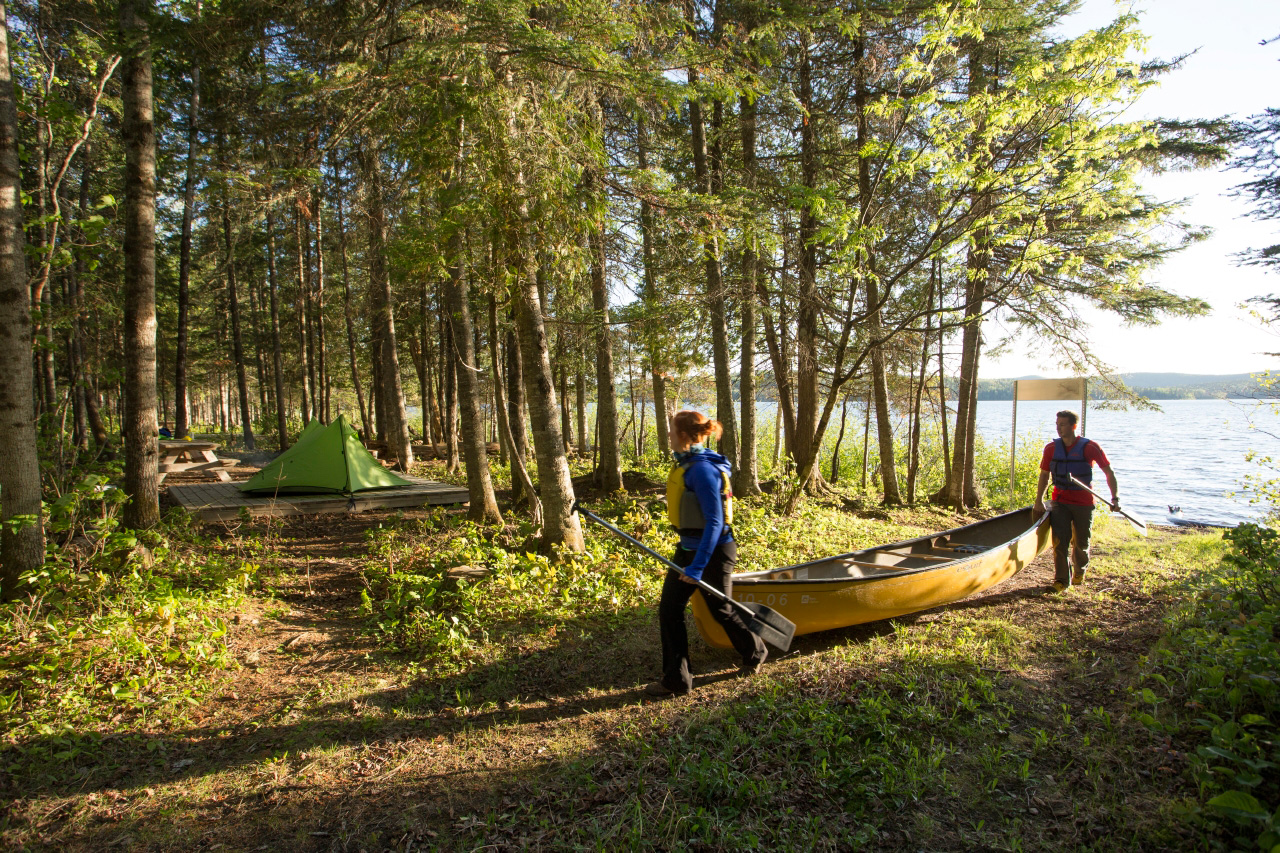 For beginners
Réserve faunique La Vérendrye
New! Whether you are a beginner or an expert canoeist, the Réserve faunique La Vérendrye offers you nearly twenty lake and river circuits punctuated by 500 campsites for overnight stays.The rental of boats, floatation jackets, safety kits and the guidance of qualified experts will make your experience most enjoyable.For the more advanced clientele, tours of more than 10 days are available! Ready to paddle this summer?
Parc national d'Aiguebelle
Are you passing through the Abitibi-Témiscamingue region? Parc national d'Aiguebelle remains a well-kept secret if you're looking to discover canoe-camping. From Taschereau Visitors Centre, navigate Lac Loïs and discover the many islands and bays of this waterway, all of which are ideal for picnics. The four rustic campsites of Le Plongeon Huard campground located approximately 45 minutes by canoe from your departure point are ideal places to spend a most peaceful night under the stars.
Parc national de Frontenac
Are you an explorer at heart? Sud sector of Parc national de Frontenac is your go-to spot to experience canoe-camping. Campsites are located at Baie Sauvage of Grand lac Saint-François, at Lac à la Barbue, and at Lac des Îles. Circuits varying between 15 minutes and 2.5 hours to complete will lead to your choice from among the 29 campsites spread out across 7 sites.
We wish to mention in particular Le Balbuzard campground, which is located on an island and offers intimate campsites near a small sandy shore. After leaving the discovery and visitors centre of Sud sector, you'll have to navigate for about 75 minutes to reach one of the three campsites of this campground.
Parc national des Hautes-Gorges-de-la-Rivière-Malbaie
Discover canoe-camping in one of one of the most beautiful glacial valleys in the world. This is what Parc national des Hautes-Gorges-de-la-Rivière-Malbaie offers you! L'Équerre campground, which, incidentally, is renowned as one of the most enchanting sectors of the park, enables canoeists arriving from Le Draveurs Visitors Centre to spend the night at any of 25 rustic campsites. The distance to travel is about eight km (between two and three hours), an ideal amount of time to admire the natural scenery.
Learn more about the canoe-camping package
Parc national du Lac-Témiscouata
The Touladi lakes of Parc national du Lac-Témiscouata have been used as a communication channel for thousands of years. While discovering canoe-camping, follow the same route that the Indigenous people traveled and imagine what this territory looked like thousands of years ago. On the way, you may have the chance to see beavers, moose, muskrats, ducks of all kinds, and of course, bald eagles.
Families can navigate a distance of 1.3 km (around 30 minutes) from Grand-Lac-Touladi Visitors Centre to the campground with the same name. You can then sleep under the stars at this interesting hub and participate in a number of discovery activities offered on site. If you wish to extend your time on the water, you can instead leave from Petit-Lac-Touladi Visitors Centre, which will add up to a nice little eight-km itinerary (three hours).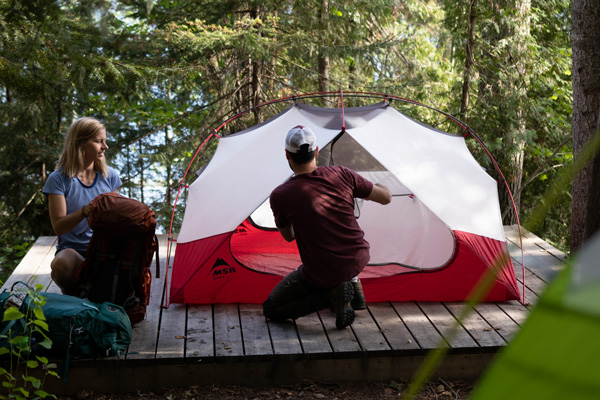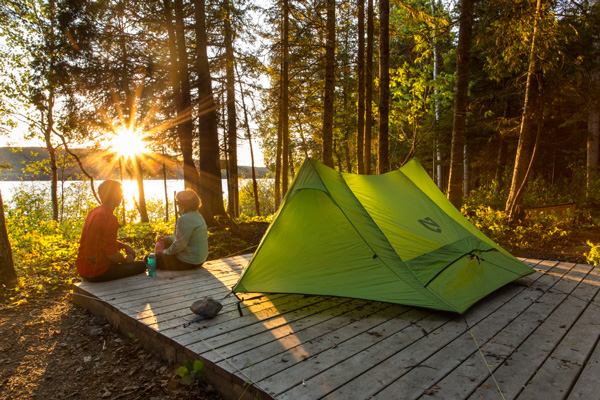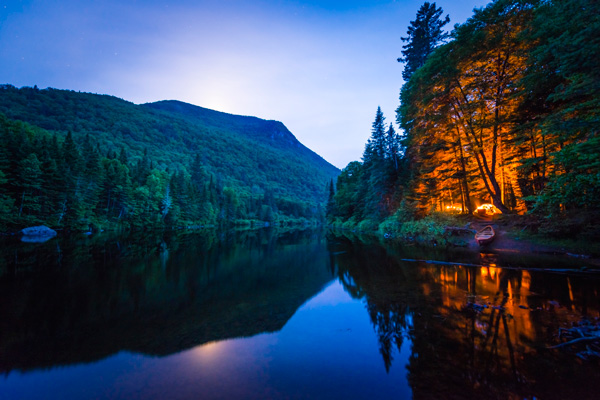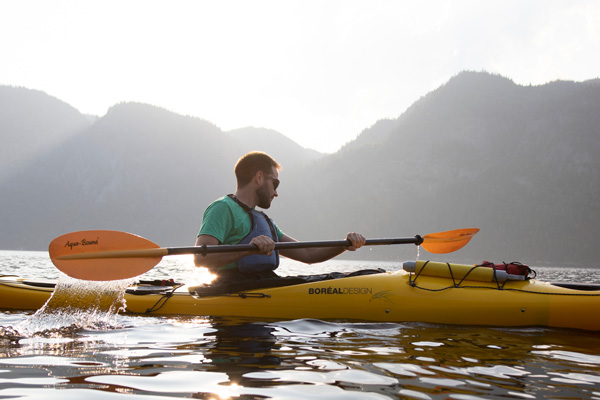 For our most experienced navigators
Parc national du Fjord-du-Saguenay
In this larger-than-life setting, the most experienced kayakers will be able to satisfy their thirst for excellence. Parc national du Fjord-du-Saguenay offers 13 waterside rustic campsites on both sides of the fjord. Navigating the marine park waters is without a doubt the best way to immerse yourself in this majestic setting and establish intimate contact with nature. Please remember that Anse-Creuse hut is also available on the kayak-camping circuit for those who'd like to have access to more amenities.
A number of circuits involving sleepovers of between one and five nights are on offer for visiting enthusiasts. See all circuit options
N.B. Fjord du Saguenay is a waterway for experienced autonomous navigators only. Better safe than sorry!
Parc national de la Jacques-Cartier
Vallée de la Jacques-Cartier is sure to satisfy all thrill-seekers. It's simply spectacular! In addition to spending the night under the stars at magnificent rustic campsites, canoeing enthusiasts will enjoy a downriver journey, including a few R1 to R3 level rapids (possibility of portage, if desired). The two-day circuit includes travel by shuttle to your starting point (La Jetée). You'll then travel down the river over a stretch of 12 km during the first day, until Bec-Scie campground, then cover 17 km the next day as you return to the discovery and visitors centre. Guaranteed fun!
Parc national du Mont-Tremblant
Parc national du Mont-Tremblant is a dream destination for canoe-camping, one of the authentic nature experiences offered at the park. River canoe-camping enthusiasts will enjoy a 46-km circuit divided into 2 sections (the first stretching 25 km and the other, 21 km) along Rivière du Diable, crossing rapids and lakes. A wide range of riverside campsites are accessible via shuttle service. In L'Assomption sector, head to the river with the same name, considered one of the best river-schools in all of Quebec. A 15-km circuit with varying levels of difficulty (passages in white water alternating with R1 to R4 level rapids) is sure to dazzle you with every sort of challenge.
For those who love large stretches of water, a number of lakes located in La Diable and L'Assomption sectors offer the possibility of sleeping under the stars after having paddled on these waterways during the day.
See all circuit options and the canoe-camping package
Parc national de la Pointe-Taillon
The fresh and exceptionally warm water of Lac Saint-Jean delights water sports enthusiasts every summer. You absolutely must stop in Péribonka sector of Parc national de la Pointe-Taillon for a kayak-camping outing. Accessible only by water, Île Boulianne and its six rustic campsites will allow you to be alone in the world for a night. From the Péribonka marina, you'll have to travel a distance of 25 km on the water, i.e. around 4 hours. Perfect for relaxing and contemplating the water as far as your eyes can see.
---
If you wish to experience kayak-camping on your own in a wilderness environment, please note that Ashuapmushuan, La Vérendrye, and Papineau-Labelle wildlife reserves offer campsites for the boldest adventurers.