Parc de la Chute-Montmorency:
an open-air gym
In collaboration with Lydiane St-Onge, globetrotter and founder of Lydiane autour du monde
One thing I like to do more than anything else during summer is to train outside. I'm always looking for new places to exercise; parks, stairs, training facilities, you name it! In my opinion, there's nothing more motivating than being outdoors.
Recently, I discovered a new place just a few steps from my home. A site that may seem unusual at first glance, but believe me, it's the ideal place to train outdoors: Parc de la Chute-Montmorency. Since it's now one of my favourite places to be active in the Quebec City area, I thought it would be a good idea to share my home training program with you, to inspire you to take advantage of this great site as well.
A five-step workout that pays off and has my boyfriend's seal of approval!
Let's go… everybody out!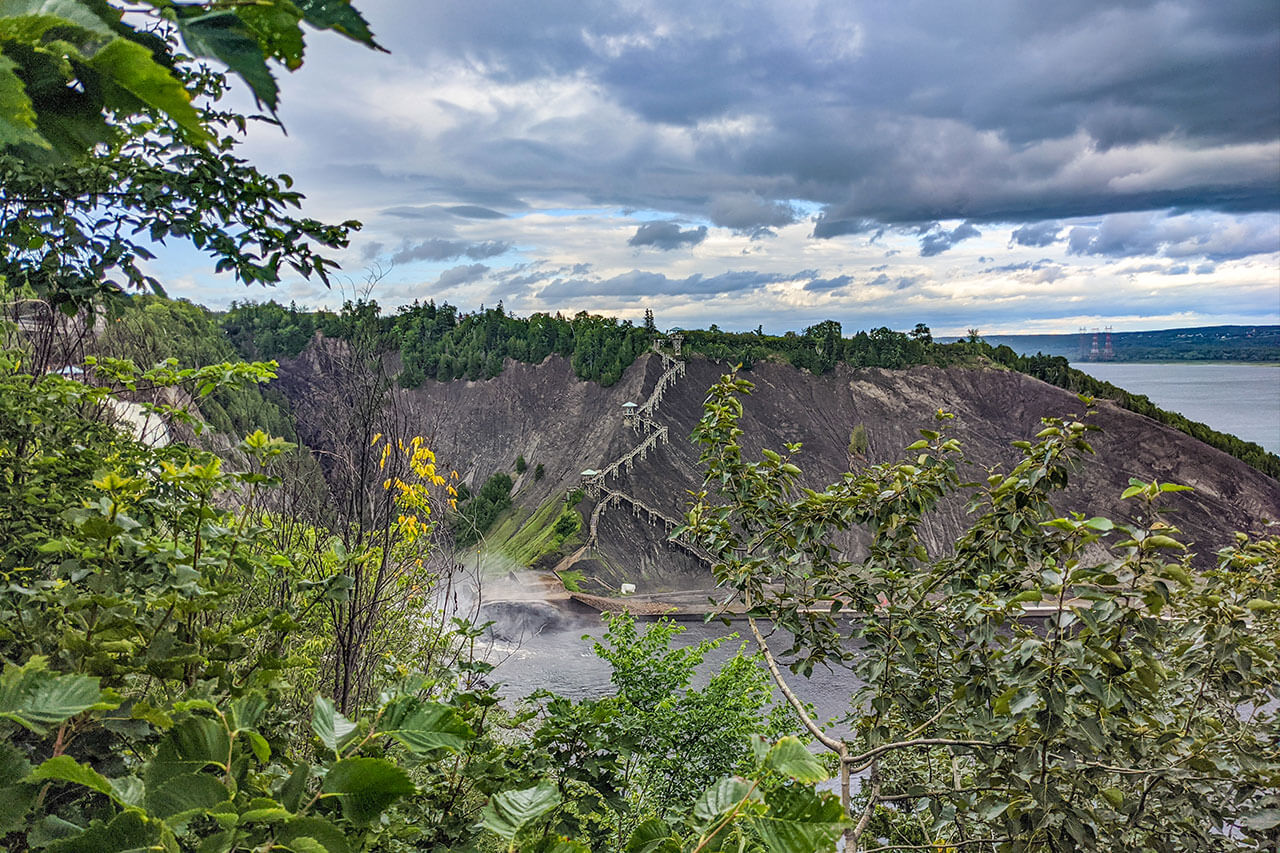 Trail warm-up
I start all my workouts with a little warm-up. At Parc de la Chute-Montmorency, I opt for a 2.5 km round-trip run on Des résurgences trail that runs along the river upstream from the waterfall. It's a really nice trail, not very busy and ideal for limbering up at the beginning of your workout.
The sequence of exercises in the orchard
After the round-trip run, it's time to work the body a little! So I settle down in the orchard for a series of five exercises:
Exercise #1 – Forearm training board – 1 minute
Exercise #2 – One leg hip lift (bridge) – 30 seconds/leg
Exercise #3 – Push ups with your elbows close together – 1 minute
Exercise #4 – Cycle abs or bicycle twist – 1 minute
Exercise #5 – Burpees – 1 minute
Once the five exercises have been completed, I take a two-minute break and then do the whole series a second time. Of course, you can do more, but I advise you to keep some energy for what comes next.
Tip: When I work out with equipment such as weights or my yoga mat, I usually just put them in the orchard before the run, so I don't have to carry them around.
Cardio on the stairs
I continue my workout by going up and down the panoramic stairway.I try to do it back and forth as many times as possible. There are 487 steps on this staircase... so take my word, it's a heavy-duty sport!
To make this part of the workout more fun, here are some variations to try to diversify your round trips.
Variation #1 – Climbing the stairs one step at a time on the run
Variant #2 – Climbing the stairs two steps at a time at a slower pace
Variant #3 – Alternating between variants #1 and #2 at each new level
Variant #4 – Racing up two steps and down one. Then repeating to the top. It was my sweetheart who introduced me to this more intense variant that I affectionately call "the stairway to hell."
The stretching session
Lastly, I finish my workout with a mini stretching session in the orchard to catch my breath! This is a time to be proud of what you've accomplished and to appreciate the larger-than-life setting that surrounds you, if you haven't done so already.
Good to know
The mornings and the end of the day are much less busy, so those are the two times I prefer to train.
The park is also accessible by way of Le corridor du Littoral bike path, a nice option to consider for those who'd like to start training as soon as they leave home.
To become familiar with the site before your arrival, I invite you to consult the interactive map You'll then be able to visualize the proposed sites, namely Des résurgences trail and the orchard, as well as the panoramic staircase.
Have a great workout, Quebec City friends!