Choosing happiness
In collaboration with Marine Clément-Colson
They come from different generations and backgrounds. Some were born in the city; others grew up in the hollow of the tall fir trees. But they all have one thing in common: they have chosen the forest - on a daily basis. Their offices are located between lakes and mountains. And their days are punctuated by birdsong and the laughter of outdoor enthusiasts. They enjoy the fresh air and the big fir trees; nature is their home each and every day. They've adopted it as their work environment.
Their names are Patrick, Lyne, Allyson, and Denis and they're employed at Sépaq's wildlife reserves.
Here are their stories.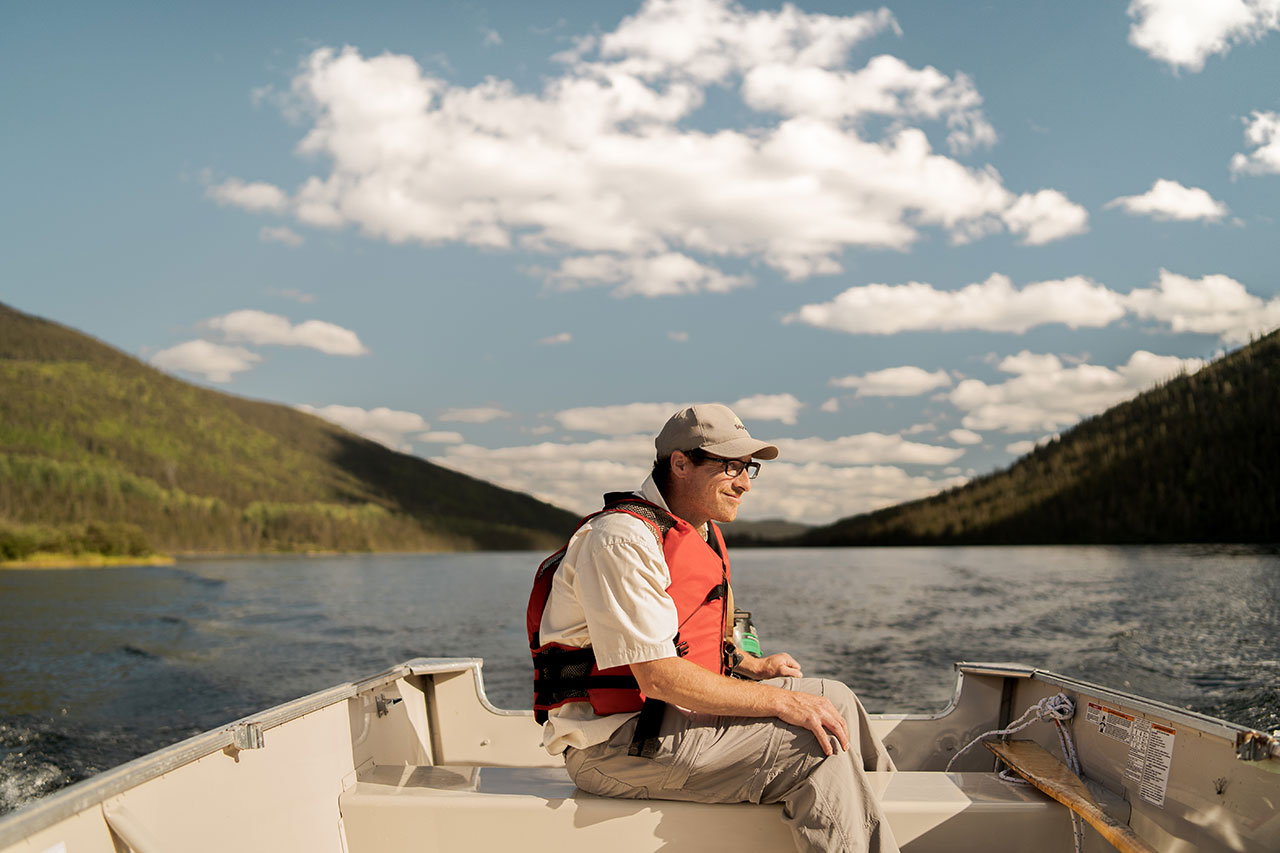 Patrick
Territory custodian at Réserve faunique des Chic-Chocs
Formerly a tree planter, Patrick loves the forest, but especially people. Everything he does at Lac Sainte-Anne is with heart and passion. And you can feel it. His greatest joy: introducing people to fishing. As soon as he has a few minutes free in his day, he doesn't hesitate to point out "the best trout fishing hole " where the little brook flows into the lake.
You've got to see him launch himself onto his lake, his paradise as he calls it. Wherever he looks, he feels a sense of pride. You need to watch him transmit his techniques of fly line casting. He'll repeat the movement dozens of times if he has to, until his apprentice savours the happiness of a successful cast, just as the sun turns gold overhead.
It's 5:00 p.m. and Patrick is returning from his introduction to fishing outing. On his watercraft, he chugs past various denizens of distant cabins. The scene is worthy of a movie. Some of the visitors are sunbathing on chairs set up on the wharf while the more courageous among them dive into the water. Others board kayaks prepared earlier by the custodian. All smile and wave when they cross paths even from afar. It's important to understand that for many, this is not the first time they've met Patrick. Some even knew his uncle Robert who, before him, took care of the place for 20 years. Patrick shows off his bulletin board on which are hung children's drawings and visitors' messages.
"One of the little girls who gave me a drawing had even done one for my uncle a few years before ! That's how it is here; people return. It's heartwarming to know that you've had something to do with their coming back."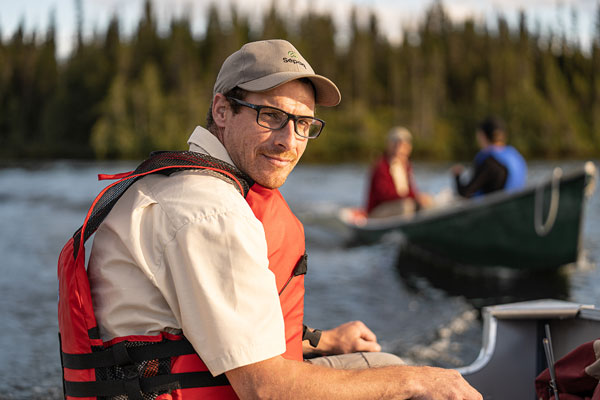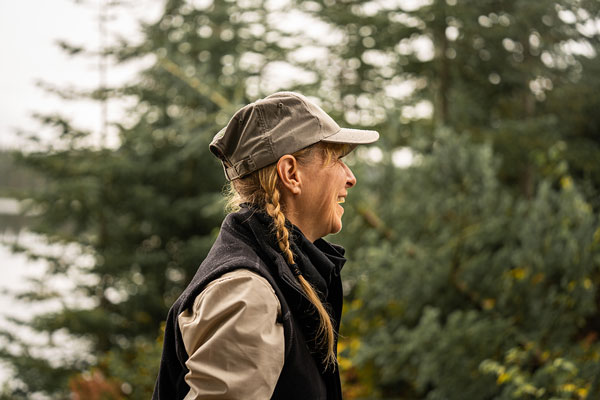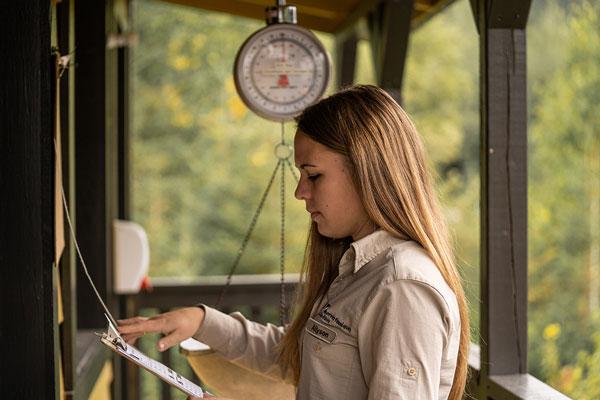 Lyne and Allyson
Activity agents at Réserve faunique des Laurentides
Lyne and Allyson are both " backwoods girls." Hunting and fishing have been a part of their lives since they were kids, but this year their passion has become a profession.
Lyne had a nursing career for several years. Her human qualities and her desire to help others can be felt right at the heart of nature. Here, she enjoys taking care of the youngest members of the team, like Allyson, and spending as much time as possible in the forest to ensure the happiness of the people who spend their holidays here.
Allyson, in her early twenties, first studied to become a hospital orderly, but she quickly realized while practicing the trade that an important element was missing from her daily life: being outside. "It's incredible to find myself every day with other human beings who share my passion! In my view, nobody understands a hunter better than another hunter. Being outdoors is essential to my life and that's what a job in a wildlife reserve allows me to do."
If you pass Lyne or Allyson on one of the lakes of the wildlife reserve, you'll understand from their smiles that they're exactly where they should be.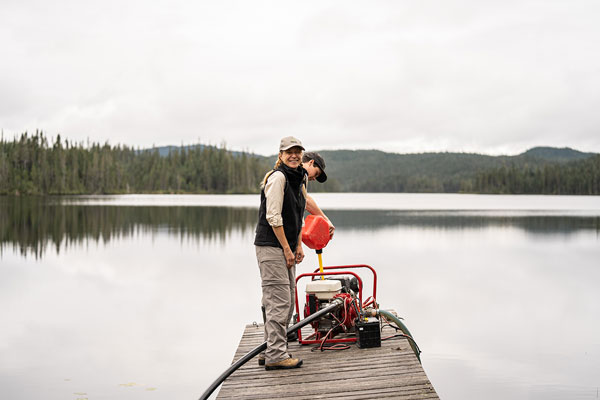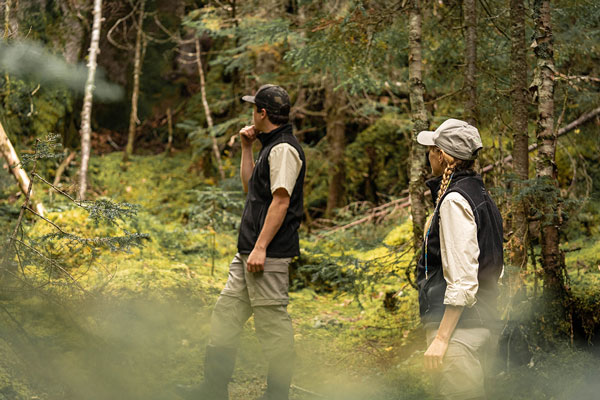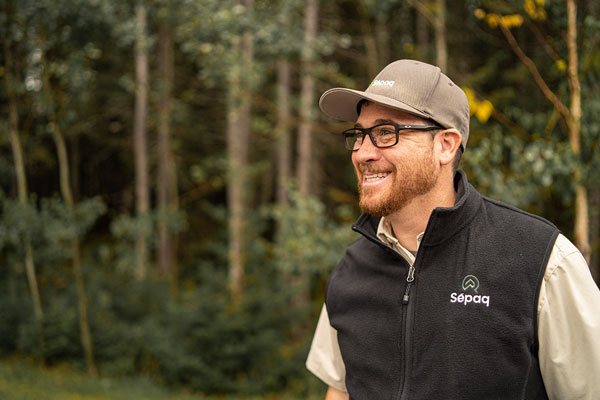 Denis
Sector manager at Réserve faunique des Laurentides
"I never see the same view twice. Mother Nature changes as she pleases, according to the daily weather and the seasons, putting on a show that captivates me each and every time. And then, to be honest, I never sit at my desk for eight hours straight in the course of a working day. I'm always out in the field, meeting people, whether it's our employees or our guests ," says Denis, with stars in his eyes.
The challenge is what turns him on each and every day. From the beginning, his goal has been clear: to climb the Sépaq ladder. To grow through a long career within the network, but to be constantly stimulated by new tasks.
For someone who started out as a modest territory custodian and is now the sector manager of the largest wildlife reserve in the network, his entry into the Sépaq universe was unexpected to say the least. He experienced it as a distant dream that becomes a reality when you least expect it.
He had already been a customer for many years, enjoying moose hunting and fishing, but stuck to living his passions as a hobby. Then one day, 10 years ago, in a split second, everything clicked. He was in Québec City, at a hunting and fishing show. In the course of a discussion, an employee he had known at Réserve faunique du Saint-Maurice told him that they were looking for a new employee – specifically a moose expert. At first, Denis didn't even consider applying for the job. In his mind, he was just a customer. Until his wife looked him in the eye and reminded him of that little dream that had been buried inside him for as long as they could both remember. The dream of making hunting and fishing his profession. Eureka!  "It was the beginning of my great adventure!  " he concludes, recalling with emotion the day that changed his life.
---
While for some it's their first job, others have a 20-year career behind them. For others, this arrival in a wildlife reserve even represents a major shift to a new field. But each of these human stories began with an exciting flash that brought butterflies to their stomachs: their offices would never again have four walls. Instead, their working world would be dominated by the fine scent of spruce and invigorating gusts of wind.
So you're a nature lover? We've got just the job for you!
Each year, Sépaq seeks around a thousand people to fill various positions. One of these jobs may be just for you! Keep an eye out for offers and sign up for employment alerts.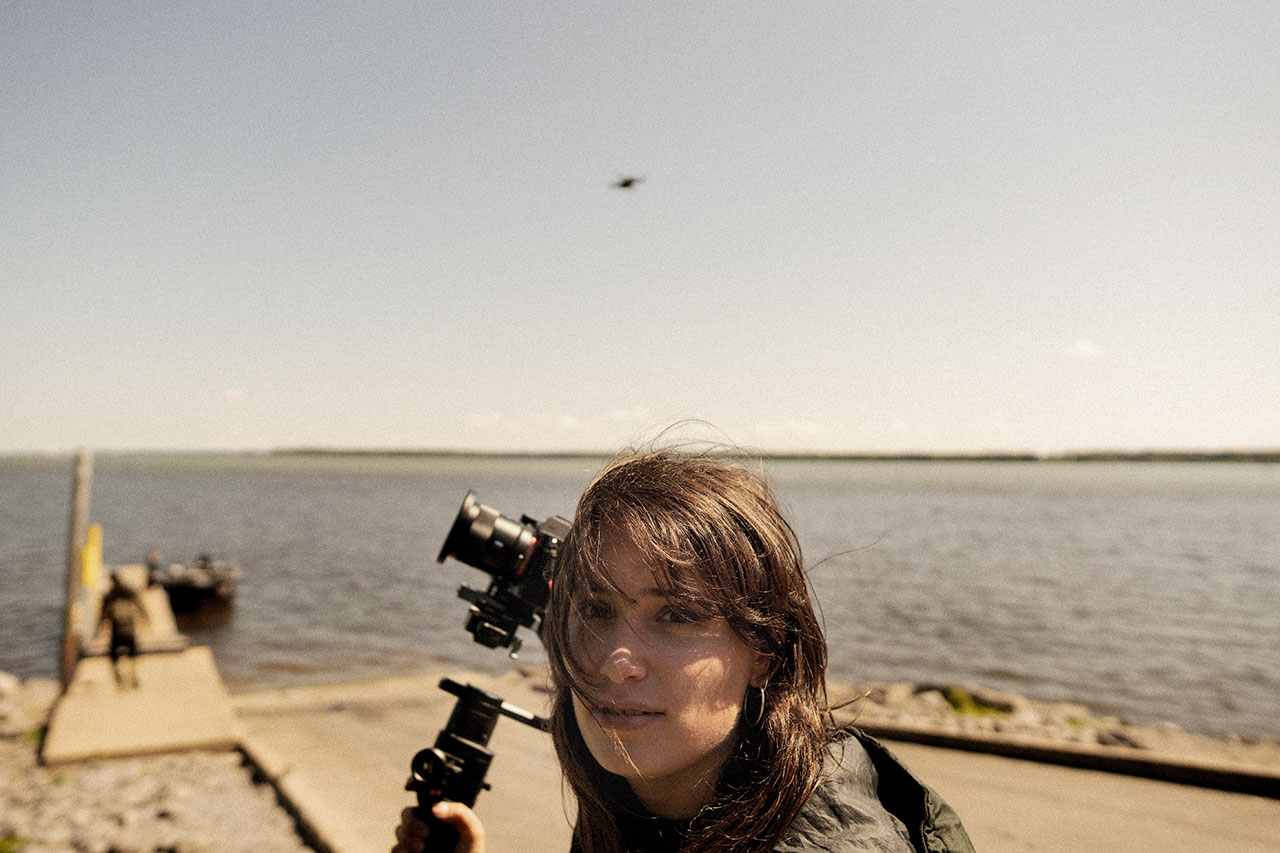 About Marine Clément-Colson
Photographer and documentary filmmaker Marine Clément-Colson has worked all around the world, and she is driven by a desire to immortalize the people who make our world such a wonderful place. From the islands of the Indian Ocean to those of the St. Lawrence River, she trains her lens on the everyday stories she encounters. In Quebec, her latest photo essay can be admired in the pages of Dînette magazine.